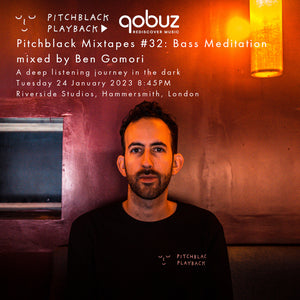 Qobuz presents Pitchblack Mixtapes #32: Bass Meditation (selected by Ben Gomori) - Tuesday 24 January 2023 8:45PM @ Riverside Studios, Hammersmith, London
Come on a journey through some of the deepest and bassiest music around, programmed and mixed by Pitchblack Playback founder Ben Gomori and played through our immensely powerful, sub-bass heavy Screen One sound system. 

Pitchblack Mixtapes follows the same format as Pitchblack Playback—focused, seated, distraction-free audio listening sessions in the dark—but instead of hearing one album by one artist, you'll hear a range of music and audio carefully selected and segued by Gomori to take you on a trip through genre, era, mood and space. Expect bass-heavy music along from Kraftwerk, Burial, Frank Ocean, Björk, Four Tet, ROSALÍA, Jon Hopkins...
This session is brought to you by the good folk at
Qobuz
. Founded in 2007, a pioneer of high quality sound, Qobuz is the French music streaming and download service that meets the needs of demanding music lovers and audiophiles. Available in 25 countries around the world, in Europe, USA, Australia, New Zealand, Latin America and Japan (Hi-Res download service only). Qobuz offers an exceptional range of exclusive editorial content written by a team of experts. With its catalog of more than 80 million tracks, Qobuz also has the richest choice of high-resolution (Hi-Res) references on the market. Qobuz is licensed for Hi-Res audio by the Japan Audio Society (JAS). For more information, visit qobuz.com and get a free 1-month trial. 
All the tracks you hear at this session are available to stream or download in high definition in either 16-bit or 24-bit resolution on Qobuz and will be available as a playlist on the platform.
Previous Pitchblack Mixtapes sessions and mixes have racked over 30,000 streams to date. Hear the last session Bass Meditation session, recorded in fabric's iconic Room One below.
What people say about our events:
"I have an out of body experience every time I go" - Jonny, artist manager
"This sounds great'' - Rick Rubin 
''Very revealing'' - Richard Russell, XL Recordings / Everything Is Recorded 
"A fabulous idea" - Jay Kay, Jamiroquai
LATECOMERS WILL NOT BE ADMITTED. Please arrive by event start time to avoid being refused entry.
Your ticket price includes a Pitchblack Playback recycled polyester eye mask (yours to keep) which we give you as we have to keep the fire exit lights on.
Please do not talk or sing at our events or use your phone.

Duration: 60 minutes
Regular price

Sale price

$8.00

Sale
Tax included.
Adding product to your cart